 JANE SHAW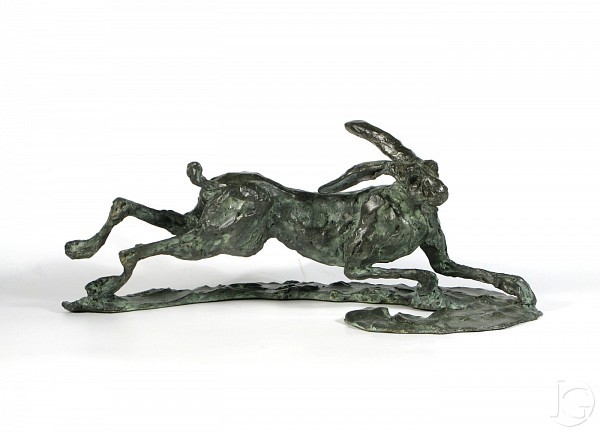 Born in 1966, Jane's love of sculpture began when she was at school in Gloucestershire where she was very fortunate to have a great sculpture teacher, who saved her from the hothouse of academia and has been a great inspiration even to this day! After completing a degree in History of Art at Manchester University, Jane spent her early career with a London firm of Fine Art Valuers and Consultants travelling and living abroad before returning to London to set up and run a recruitment company, which she then sold after a decade.
On moving to Dorset in 2013, she revived her love for sculpture inspired by her lifelong interest in wildlife and the outdoors. Her strong influence in Dorset has been Clare Trenchard who introduced her to world of animal sculpture.
Jane is passionate about capturing the overall emotion and movement of animals and wildlife in her bronze sculptures. Her focus is to portray the character and emotion of each individual animal by using fluid, spontaneous and strong gestural strokes in any material she uses. She does not shy away from the ugly, she says: 'Ugly is beautiful.' Jane can create a statement of feeling through any subject she chooses, whether wildlife, domestic animals, equestrian or figurative. Often working directly from life, she produces bronzes for both inside the home as well as garden pieces on a larger scale.
Jane's total passion for her work has led her to win several sculpture awards. She continues with her own sculpture projects alongside commissions, mainly focusing on wildlife and animals. Her mantra is 'I must never tire from looking, observing and learning'.
Inspiration comes from Rodin, Bugatti, Degas, and more recent sculptors: Lawrence Edwards, Brian Taylor, Dylan Lewis and Nicola Hicks. She exhibits both in London and nationally and welcomes visits to her Dorset studio and her garden where she has a permanent display of her outside work.
---