 GERALD GREEN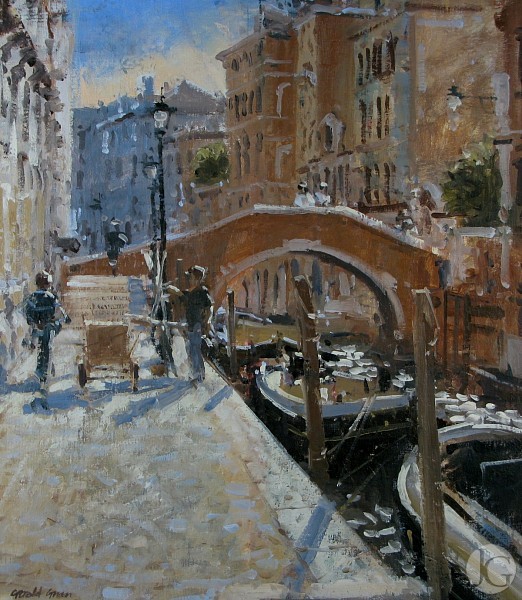 Born in 1947, Gerald Green gained a Diploma in Architecture at Leicester Polytechnic and worked as an architect in the Midlands until the mid 1980s, painting in his spare time. He then left his job to take up painting full time.
He has exhibited widely. His solo exhibitions include Luton Art Gallery, the City Art Gallery in Gloucester and Nuneaton Art Gallery. In 2004 his work was selected from amongst 10,000 entries to be exhibited in the "Not the Turner Prize" at the Mall Galleries.
As an accomplished, professional architectural illustrator with a great deal of experience, Gerald's work combines technical excellence with the creative skills of a practised fine artist and shows vitality and atmosphere in his interpretation of architecture. Gerald says that 'light is the essential ingredient which I use to energise and invigorate my work'.
Gerald is a member of the Free Painters and Sculptors Group and The Society of Authors and was, for several years, Vice President of The Society of Architectural Illustrators. He has contributed articles on the techniques of drawing and painting to The Artist, Watercolour Challenge, Artists and Illustrators and Brush Strokes magazines. His work has also featured in books on art and architecture: Art Class, Architecture in Watercolour and Architectural Rendering. From 1988 he has served as a visiting lecturer at various art colleges and universities and frequently gives lectures and demonstrations to art societies.
Gerald Green has undertaken numerous commissions for leading architectural and property development companies world-wide, thus establishing a portfolio of satisfied clients.
---