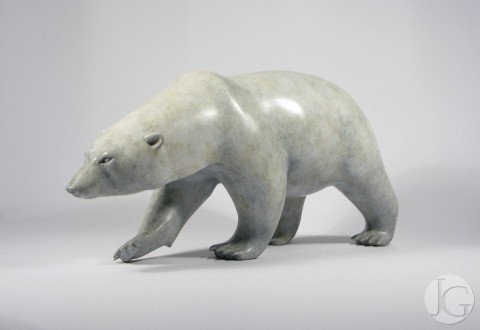 One of Britain's leading wildlife sculptors Adam has a signature fluid style of simple lines and flowing forms depicting both movement and emotion that beautifully captures the essence of his subjects. Working primarily in Bronze with earthy rich patinas, Adam's work is recognised and collected all over the world.
Adam won the David Shepherd Wildlife Artist of the Year in 2010, and was elected a Member of the Society of Wildlife Artists in 2011.
'Nature is a wonder and a joy to observe and it's through my sculpture that I endeavour to connect further with wildlife and capture the character of my subject. While I'm sculpting I feel I'm engaging with the spirit of the animal, sensing it's subtle movement and suggestion in body language.
For me, nature and sculpture are the perfect marriage. I see repetition in form, line, mass and detail throughout the natural world, sculpted over time but in perfect harmony. Conscious of these patterns, the concept for a sculpture becomes active in my mind and only when the composition, balance and emotion is clear do I begin to sculpt. I want to portray the simplicity of form, smooth flowing lines, natural rhythm and in doing so, free the eye to engage in the detail.


Please check with the Gallery the availability of these editions.
---